The News
Its been a great year so far with shows all over Europe/Scandinavia, We also supported Imelda May and Darrel at St David's Hall Cardiff, who I would like to congratulate and send our best wishes on there new arrival.
I'm very happy to say I will be supporting  Big Boy Bloater again in Bristol and Cardiff on his current tour
Plans for some new recordings are under way with lots of freshly written songs (I've load some new demo's on the player below for you). I've kept gaps in October and November to record. Although we have to find a new studio as the Billy Banks is no more ;(
Darrel & I have been talking about a new Johnny Bach and the Moonshine Boozers album, which we are hoping set a recording date this weekend. We're both playing at the Ace Cafe Re-union, who knows we may join up and do some Bach'in !!!
I have been asked to do a Duet with a band I really like, (you will  as well if you don't already) Can't say anymore at the moment but stay tuned.
Offers to go back to Australia  next year and another attempt to get us to Moscow are under way.
A new songwriters circle Nashville style in Penarth on Sept 21st with Christopher Rees, Nick Treharne and little old me. If well supported there will be more, bringing in songwriters from all over. So please make the effort
Please Check on the live page for details when we are near you.
Also the John Lewis solo CD has been released on Australian Label Press-Tone Records
Migraine Records have released a new Limited Edition 45 featuring songs from the Billy Banks Session
Drunk / Layback and be Cool
Migraine 007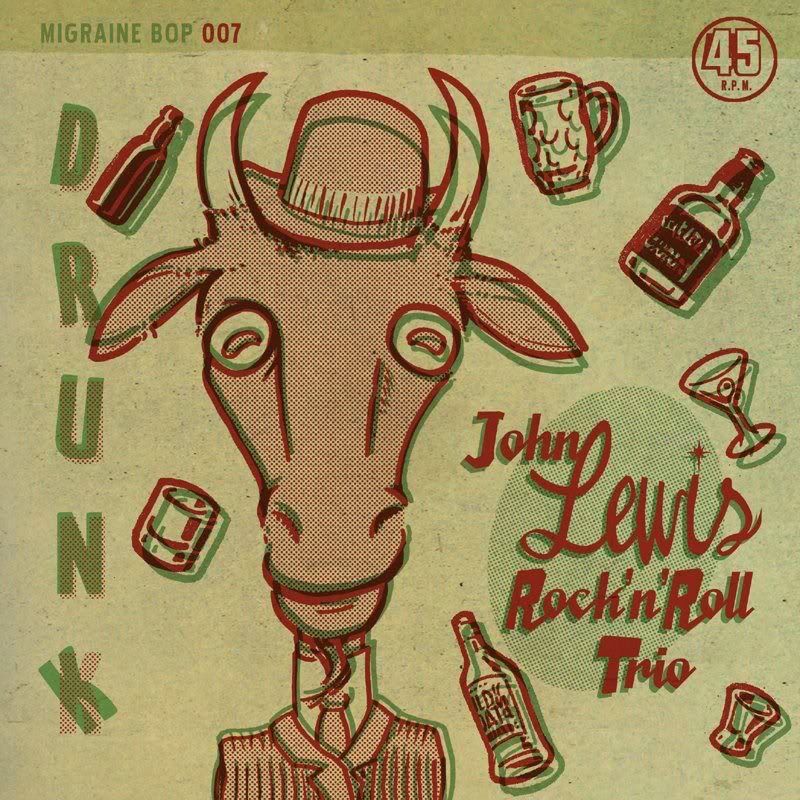 Another Migraine records limited 500 hand numbered 45 release
Is OUT NOW you can  order on Merchandise page while stocks last.
Doing Time  / Black Cat
Migraine Record 45 – Limited re-release,
Only 200 hand numbered 45′s in Yellow Vinyl
We only have 30 copys  SOLD OUT
.
New Album Billy Banks Sessions has had a great response
"Lewis and his band have produced an album that's an entertaining and heartfelt tribute to its location and to its source material, which proves that rockabilly has plenty to offer in the twenty-first century music scene."
Dave Haslam R2

" John and the boys have produced a gem,a lasting tribute to the doomed estate. The melting pot of Rockabilly, Rock'n'Roll and Country has spewed out some of the most engrossing music of the year, or for quiet some time for that matter." "fifteen cuts of the highest quality"
Johnny Hop UK R'n'R
"A  absolute top notch album by one of the U.K finest Rockabilly Exports!!!"
Mad House Jump magazine Germany
" if you are  already a John Lewis fan, your're gonna love this. If you want an introduction, you couldn't get a better one"
Steve Aynsley NDT
" Fantastic CD"
Stefan, Bear Family Records
"Excellent stuff – as good as anything America has to offer"
Red Lick Records
"It cannot escape your notice how so much of what is perfectly good, but considered out of fashion, is destroyed these days, by people too stupid and greedy to see what they had.
John Lewis champions roots music, singing it in his own inimitable style, not letting it be thrown away and lost forever.
His voice and the poignant setting of the last house on the Billy Banks Estate, could make a grown man cry.
A grown man with any soul that is."
Jerry Chatabox August 2011
Also the John Lewis solo CD has been released on Australian Label Press-Tone Records